Analytical and Environmental Chemistry
Contact
Prof. Dr. F. Scholz

Secretary's office:
Martina Gerth
Institute of Biochemistry
Analytical and Environmental Chemistry
Felix-Hausdorff-Str. 4
17487 Greifswald
Tel.: +49 3834 420-4412
Fax: +49 3834 420-4413
Chemical Equilibria in Analytical Chemistry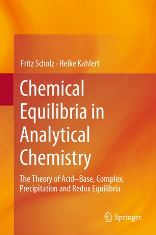 Fritz Scholz, Heike Kahlert
Springer Nature, 2019, ISBN: 978-3-030-17179-7
This book provides a modern and easy-to-understand introduction to the chemical equilibria in solutions. It focuses on aqueous solutions, but also addresses non-aqueous solutions, covering acid–base, complex, precipitation and redox equilibria. The theory behind these and the resulting knowledge for experimental work build the foundations of analytical chemistry. They are also of essential importance for all solution reactions in environmental chemistry, biochemistry and geochemistry as well as pharmaceutics and medicine.
Each chapter and section highlights the main aspects, providing examples in separate boxes. Questions and answers are included to facilitate understanding, while the numerous literature references allow students to easily expand their studies.
Chemische Gleichgewichte in der Analytischen Chemie
Die Theorie der Säure-Base-, Komplexbildungs-, Fällungs- und Redoxgleichgewichte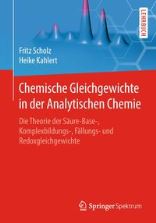 Fritz Scholz, Heike Kahlert
Springer Spektrum, 2018, ISBN 978-3-662-57452-2
- Einziges umfassendes Lehrbuch zu den Chemischen Gleichgewichten
- Chemisch, physikalisch und mathematisch klare und leicht nachvollziehbare Darstellung
- Autoren verfügen über jahrzehntelange Erfahrungen in der Lehre dieses Gebietes
Das Lehrbuch beschreibt die theoretischen Grundlagen der Säure-Base-, Komplex-, Fällungs- und Redoxgleichgewichte für die Analytische Chemie, Umweltchemie und Biochemie.
Wilhelm Ostwald
The Autobiography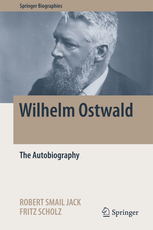 The first English translation of Wilhelm Ostwald's Autobiography, originally published in German
Robert Smail Jack, Fritz Scholz, Fritz (Eds.), Springer, 2017, 688 p., ISBN 978-3-319-46953-9
This book is the translated and commented autobiography of Wilhelm Ostwald (1853-1932), who won the Nobel Prize for Chemistry in 1909. It is the first translation of the German original version "Lebenslinien: Eine Selbstbiographie," published by Ostwald in 1926/27, and has been painstakingly translated. The book includes comments and explanations, helping readers to understand Ostwald's text in the historical context of Germany at the beginning of the 20th century.In his autobiography, Ostwald describes his impressive research career and his life from his own personal view. Readers will find information on how Ostwald immortalized himself through his research on catalysis, chemical equilibria, technical chemistry, and especially as one of the founders of modern physical chemistry. His broad interests in science, ranging from philosophy to the theory of colors and the idea of a universal scientific language are further remarkable aspects covered.This work will appeal to a broad audience of contemporary scientists: Wilhelm Ostwald has been tremendously influential for the development of chemistry and science, and many of today's best-known international scientific schools can be traced back to Ostwald's students. Ostwald was active in Germany and what is now Latvia and Estonia, while also travelling to the USA, England and France. In his discussions and analyses of the working conditions of the time, readers will find many issues reflected that continue to be of relevance today.