Biotechnology & Enzyme Catalysis
Welcome to the Bornscheuer group!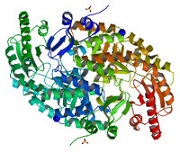 ---
Welcome!
Our major research target is the development of tailor-made biocatalysts suitable for industrial applications.
Please enjoy to explore our website to get a more detailed description of the group, its projects, publications and other information.
To see our fancy robotic platform, see here.
Our internal wiki-platform can be found here.
---
Overview of research activities
Access to biocatalysts
Identification of new biocatalysts by screening, e.g. from strain collections
In silico discovery of novel enzymes
Cloning and functional expression in suitable microbial hosts
Creation of tailor-made enzymes using directed (molecular) evolution and rational protein design
Commercial enzymes
Methods
Development of High-throughput-systems, e.g. robotic platform and microfluidics
Development & application of bioinformatic tools
Cloning, expression, purification, characterization of enzymes
Chemical syntheses
Chiral analysis (e.g. via gas chromatography or HPLC)
Process development (e.g. continuous enzymatic synthesis)
Enzymes studied
CAZymes
Plastic-degrading enzymes
Transaminases
Baeyer-Villiger- and P450-Monooxygenases
Esterases/Lipases
Others
Applications
Synthesis of optically pure compounds, e.g. for pharmaceutical applications
Degradation of algal polysaccharides using a toolbox of CAZymes
Degradation of plastics, e.g.PET
Modification of fats and oils, e.g. structured triglycerides
Prof. Dr. Uwe T. Bornscheuer
Dept. of Biotechnology & Enzyme Catalysis
Institute of Biochemistry
Felix-Hausdorff-Str. 4
D-17487 Greifswald
Telefon +49 (0)3834 420 4367